At MVRDV, we create adventurous and lively façades based on a wide range of research bringing our projects to life and visually acknowledging our design heritage. Studio Director Sven Thorissen will give a lecture and tell the stories about MVRDV's façades at ZAK World of Facades on November 4 in Frankfurt.
Director, and Architect, Sven Thorissen, currently oversees MVRDV's Das Studio, explicitly focused on growing the office's profile and portfolio in Germany. Sven Thorissen returned to MVRDV in early 2019 after a 12 year-hiatus, a considerable period of which he was working as Concept Developer for Proper Stok and Strategic Advisor Spatial Development, Economy and Sustainability for the municipality of Alphen aan den Rijn. He leverages this broad range of experience with private and public organizations, across architectural design, project development, and sustainability in his studio leadership. Projects that benefit from this insight include Werkstad Grasbrook, Potsdam Kreativ Quartier, KoolKiel, Turm mit Taille Vienna, EXPO Pavillion 2.0 and Franklin Mitte, as well as those previously undertaken as a Project Leader for MVRDV between 2000-07: Unterföhring Park Village, Frøsilo in Copenhagen, Parkrand in Amsterdam and the Markthal in Rotterdam.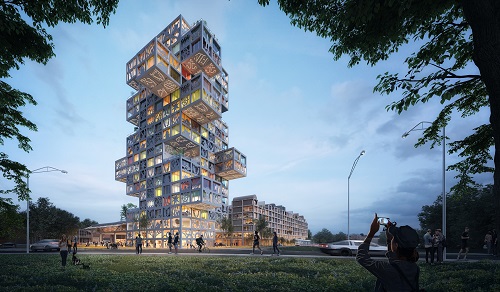 ZAK World of Façades is an international conference series on façade design and engineering. This one-day conference is currently being organised in over 30 countries around the globe. Sven Thorissen will give a lecture for the 83rd edition in Frankfurt. He will talk about the façades, including Koolkiel, WERK12 and Expo 2000. The main language of this event will be German.
Date and time: November 4, 2021. 12:20 (CET).
Location: Radisson Blu, Frankfurt.
You can register and find more information here.