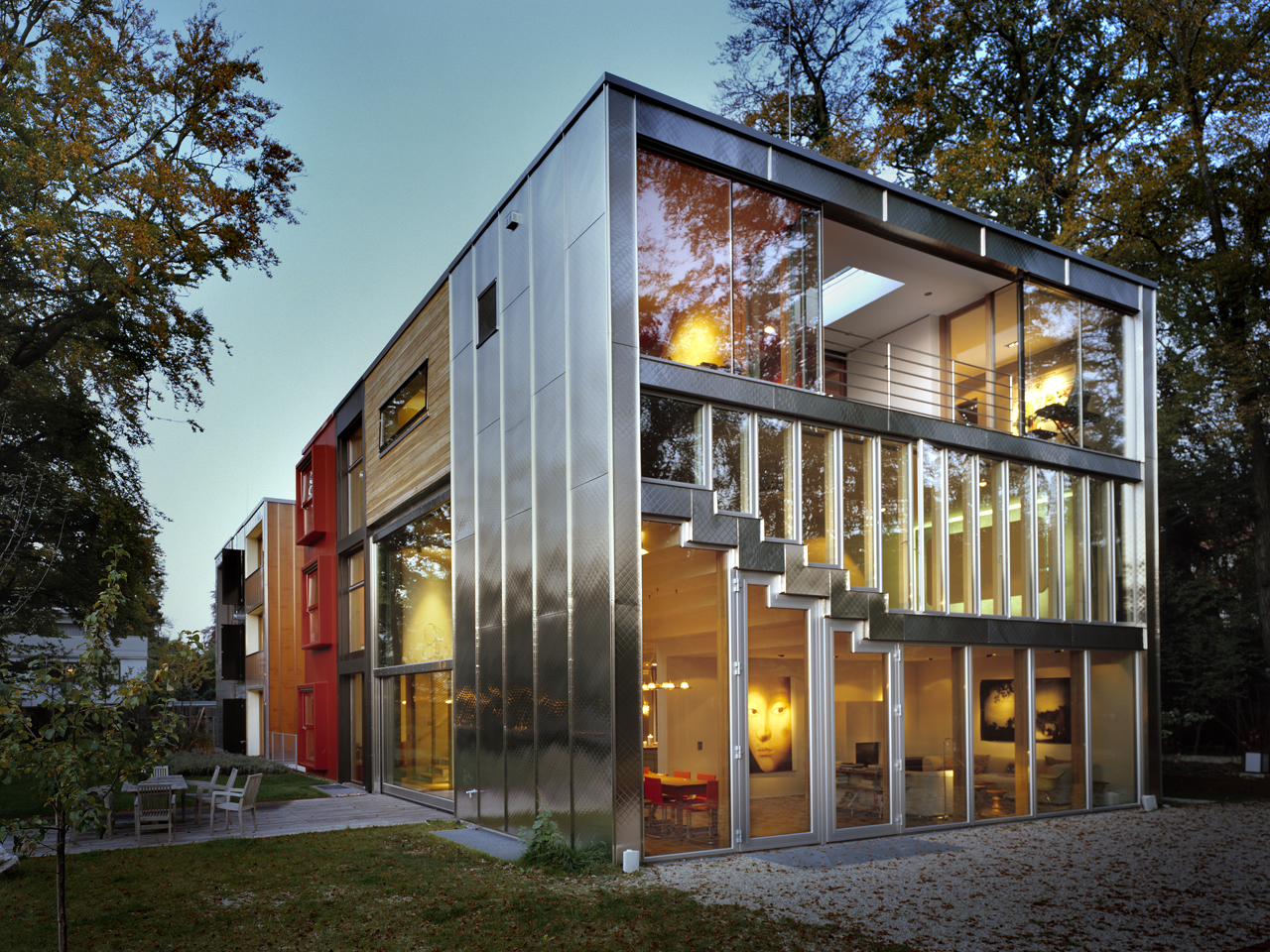 Barcode House
Located in the suburbs of Munich, this large villa and studio stretches across two rectangular building plots forming a barcode collage of nine individual units. The programmatic arrangement of the building, informed by the daily routine of the owners, is expressed visually. Each 'strip' accommodates a separate programmatic element or activity; its idiosyncrasy accentuated by distinctive interior and exterior material applications.
Location

City

Munich

Year

2005

Surface

900 m²

Status

Realised

Programmes

Themes
The large, heavy volume of the Barcode House is divided into ten sections, nine of which have been incorporated into the proposed building envelope. A curtain crosses over the 6 m-wide gap between the two envelopes and unifies the elements to form a single entity. Each individual strip has a unique atmosphere in contrast to that of adjacent strips.
The spatial configuration of the interior is based upon the classical concept of the enfilade. In the Barcode House the resulting form comes from the sum of the individual parts. The interaction of clear, full-size spaces, which span the entire width of one barcode strip, combined with small side rooms – alcoves – that link these spaces, creates a vivid domestic environment: a balance between openness and privacy. A prominent central axis allows for a spatial and visual connection between the sequence of elements and offers voyeuristic moments along the length of the villa.
The Barcode House prioritized sustainability before it became a buzzword for architects. It was decided early on that timber, rather than the cheaper but less sustainable alternative of concrete, would be used for the structure of the house. In addition to this, the house is designed to be incredibly flexible, welcoming multi-family or live-work conditions, should its use change in future. Sustainability in this sense, a long-lasting house, resulted from good design: anticipating possible changes in patterns of use rather than rigidly enforcing specific ones.
© all rights reserved