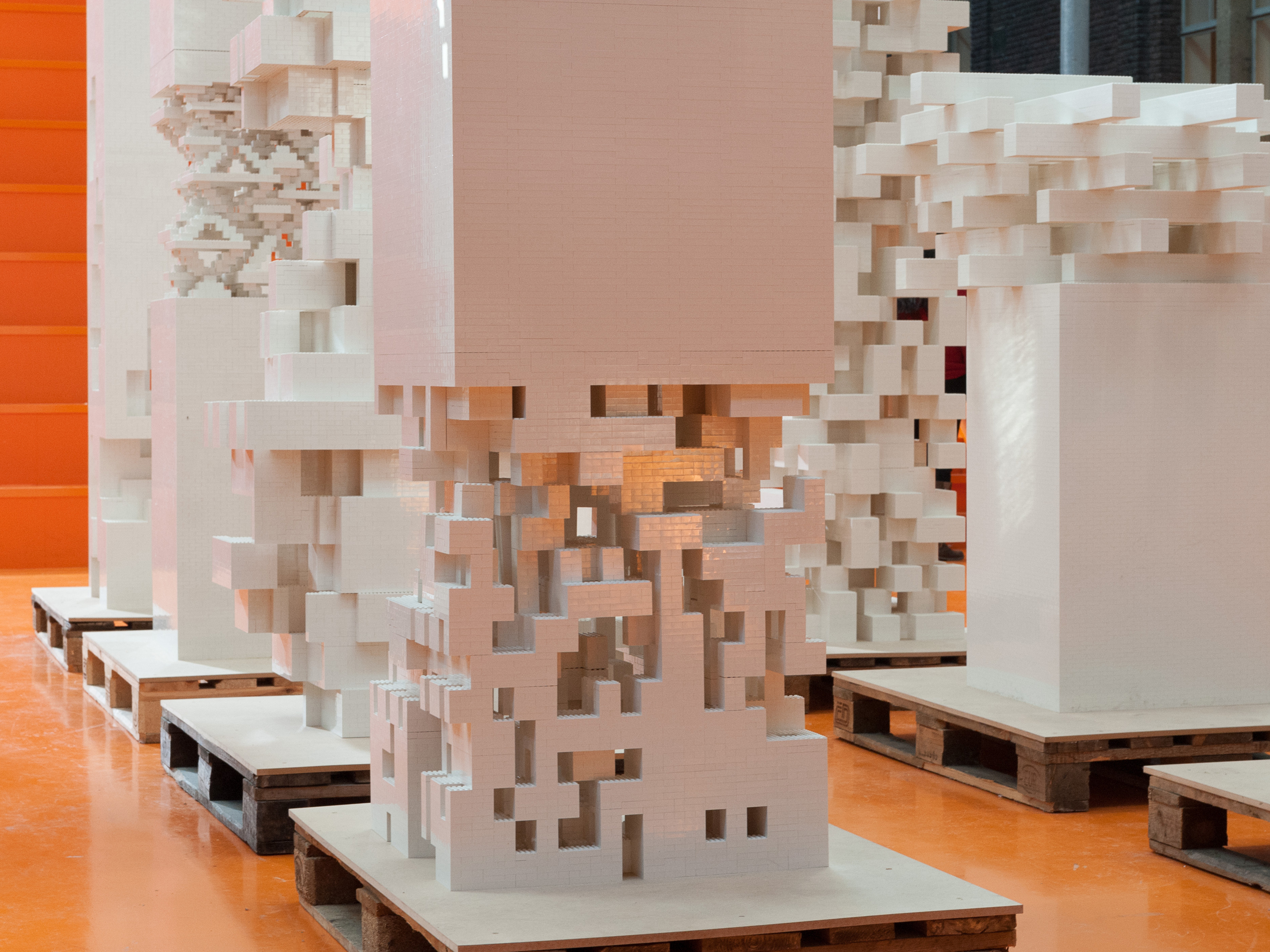 Porous City Lego Towers
This exhibition, titled 'Porous City', presented MVRDV and The Why Factory's (T?F) ongoing research on the design of skyscrapers and the potential of porosity as a European approach to urban density. The results are presented as scale models made of LEGO bricks, which were exhibited at the Why Factory in Delft, the Venice Biennale Architecture Exhibition 'Common Ground', MIPIM International Real Estate Conference in Cannes, and Hong Kong's annual Business of Design Week.
What is a European skyscraper? Will Europe copy the corporate American skyscraper? Or will it copy the extruded plan of the Asian skyscraper? What defines a 'European' skyscraper anyways? A verticality which translates European urban values upwards, a vertical town with parks, public space and a mixed urban program.
LEGO used to be an almost abstract toy for young architects and urban planners. Then it globalised... Then, with the LEGO Architecture series, it started to re-evaluate its greatest characteristic - a toy for architects. It started to be used for art projects, installations etc. Now the Why Factory uses the LEGO pixel as a basis for scientific research. The LEGO Group supported this research by donating one million LEGO bricks. The Why Factory has defined a new abstract scale for the LEGO Brick, with a typical four connector unit representing an architectural volume of 15x15x8m, or two floors high.
Using the parametric design software Grasshopper, 676 iterations at 1:1000 and 16 at 1:100 investigate development of possible new relationships between mass and void in large-scale architecture. The material presented at the exhibition is a result of design studio led by The Why Factory through fall semester 2011/12. The models are also an exercise in the rational, evolutionary design process pursued by MVRDV and other offices.
© all rights reserved
Acrhitect
Principal in charge
Design team
Strategy & Development
Participants of the Eurohigh design studio
Copyright
Partners