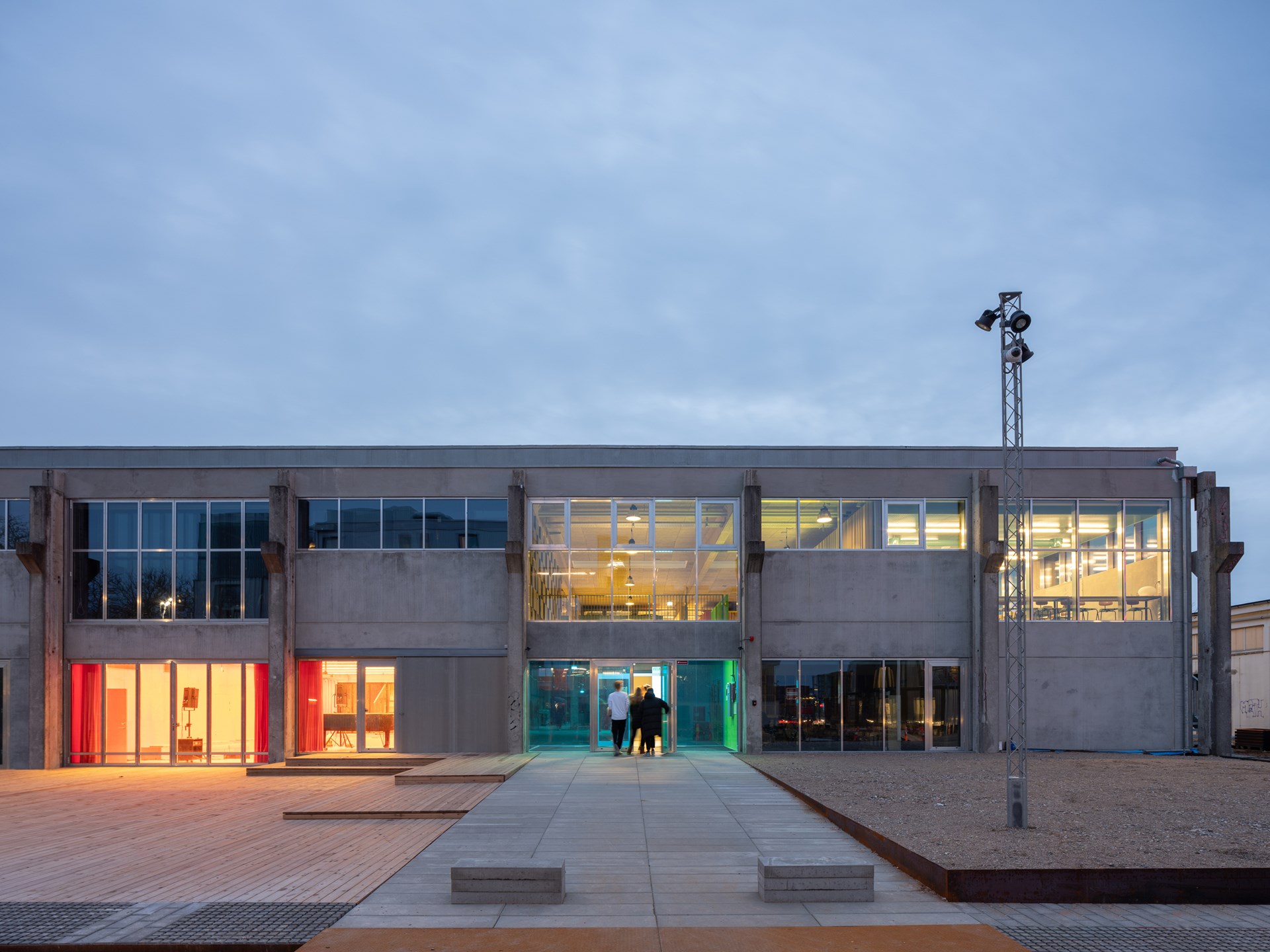 Roskilde Festival Folk High School
Roskilde Festival Højskole is the first newly-established and built folk high school of its kind in Denmark in 45 years, based on the ideals of the Roskilde festival. The ideals and values are very much influenced by the volunteer engagement, the humanistic focus and creative power, that every year forms and characterize the event and the community of Roskilde festival.
Country

City

Roskilde

Year

2019

Surface

5600 m²

Client

Danmarks Rockmuseum, Roskilde Festival Hojskole and Roskildegruppen

Status

Realized

Programs

Themes
The design is based upon a "box-in-a-box" concept: colourful modules fill the warehouse-like shell of the main building, all arranged around a central spine cutting from one side of the building to the other. Alongside this route is a wooden tribune that acts as the communal heart of the school.
"For me as a former folk high school student it was a very special task to transform a former concrete factory into a folk high school with the purpose of shaping future generations of students," says Dan Stubbergaard, architect and founder of COBE. "By opening the building up and adding new boxes inside the old structure we revitalize the building. A defunct industrial building has become a bustling hub for creativity and community."
The boxes host a variety of different functions including an auditorium (named the Orange Stage in a nod to the main stage of the Festival) for 150 people, a music studio, a workshop, and classrooms for dance, art, and architecture. These functions are arranged into three zones: some host pursuits of the mind, including writing, thinking, debate, and leadership; others are focused on students' use of their bodies, including dance and music functions, while the third zone hosts activities focused on the hand, including visual arts, architecture, and design.
© all rights reserved
Architect
Principal in charge
Partner
Execution Team (MVRDV)
Design Development Team (MVRDV)
Competition Team (MVRDV)
Design Team (COBE)

Dan Stubbergaard, Thomas Krarup, Mikkel Moris, Sonia Bom, Caroline Krogh Andersen, Jens Kert Wagner, Clement Bue Maali, Milan Milenkovski, Simon Engberg Christensen, Morten Andersen, Anis Souissi, Marine Pierson, Tenna Buus Rasmussen, Tamara Kalanajevska, Daniella N. Eskildsen, Jannis Bruns, Arvydas Gasparavicius, Gianluigi D'Aloisio, Jonas Snedevind Nielsen and Jonas Søndergaard
Partners: Roskilde Festival Folk High School
Design team: Roskilde Festival Folk High School Student Housing
COBE: Design team: Roskilde Festival Folk High School Student Housing
Photographs
Partners: Roskilde Festival Folk High School Student Housing
Copyright: MVRDV
#ROSKILDE FESTIVAL FOLK HIGH SCHOOL