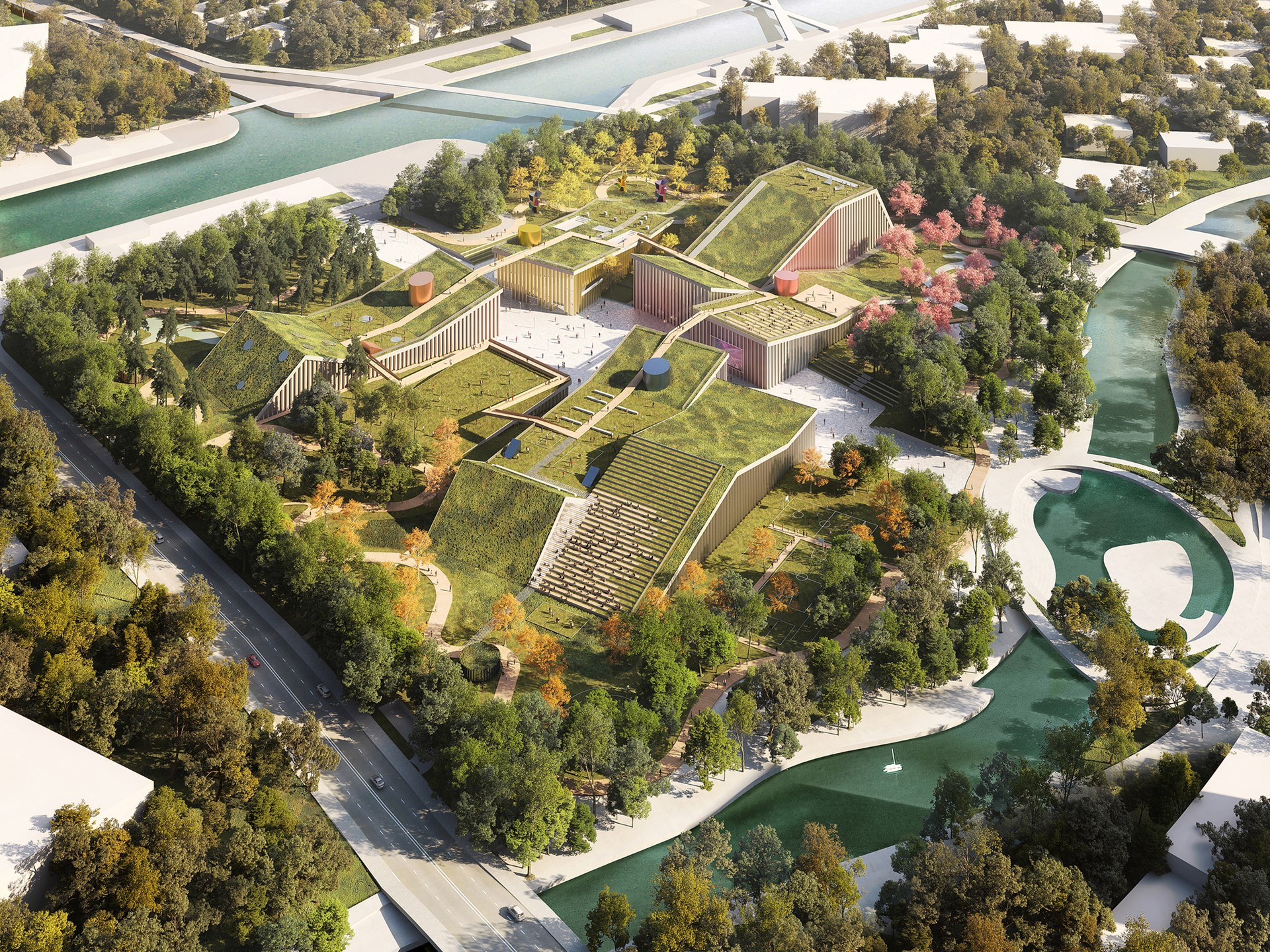 Zhangjiang Future Park
Zhangjiang Future Park will become a new focal point for the Pudong district of Shanghai. The park comprises communal public facilities that artfully combine culture, entertainment and local nature with green landscaped buildings and a public park. The competition-winning design includes 10 000m2 of public plazas, a 56 000m2 public park and 37 000m2 of building divided over four venues: a library, art centre, performance centre and sports centre.
The project exists as a vertical layering of these two conditions. Park lawns and urban plazas are set at two different levels and have very different and recognizable characters. They are connected by multiple paths that allow visitors to easily move from one to the other. Together they form a flexible, hybrid morphology that responds to the needs of the Zhangjiang community.

The complex is formed by four large public buildings, a library, an art centre, a performance centre and a sports centre. Together they offer an outstanding array of cultural and entertainment services all within short walking distance of one another.

The library will display books through its glass facade and welcome visitors into a large atrium. The atrium works as an extension of the plaza, offering a space for socialization and reading. The upper terraced floors are reserved for reflection and concentration as both noise and light are attenuated by contained and smaller spaces. A total surface of 10000sqm will offer specific sections for children's literature, comics, magazines and a multimedia collection.

The art centre will provide space for temporary exhibitions and a small collection of paintings and sculptures. The entire 5 000m2 will overlook the central space: an atrium that connects the entrance hall to all levels and rooms. Users will be guided by stairs, escalators and tribunes to visit and enjoy every floor whilst surrounded by art and natural light.

The performance centre invites users through a common atrium to two theatres: the largest, seating 700 people, will host large productions of plays and concerts whilst the smaller theatre will seat 300 people and will be used for youth shows and minor events. A total surface of 10,000m2will offer spaces for music, lectures, dining and relaxing.

The sports centre offers two main activity areas related to water sports and ball games respectively. A common entrance leads to both the Olympic swimming pool and the multifunctional sports hall. The 10,000m2 of sports facilities is exposed to the landscape and natural light, making an indoor match feel like an outdoor event.



© all rights reserved