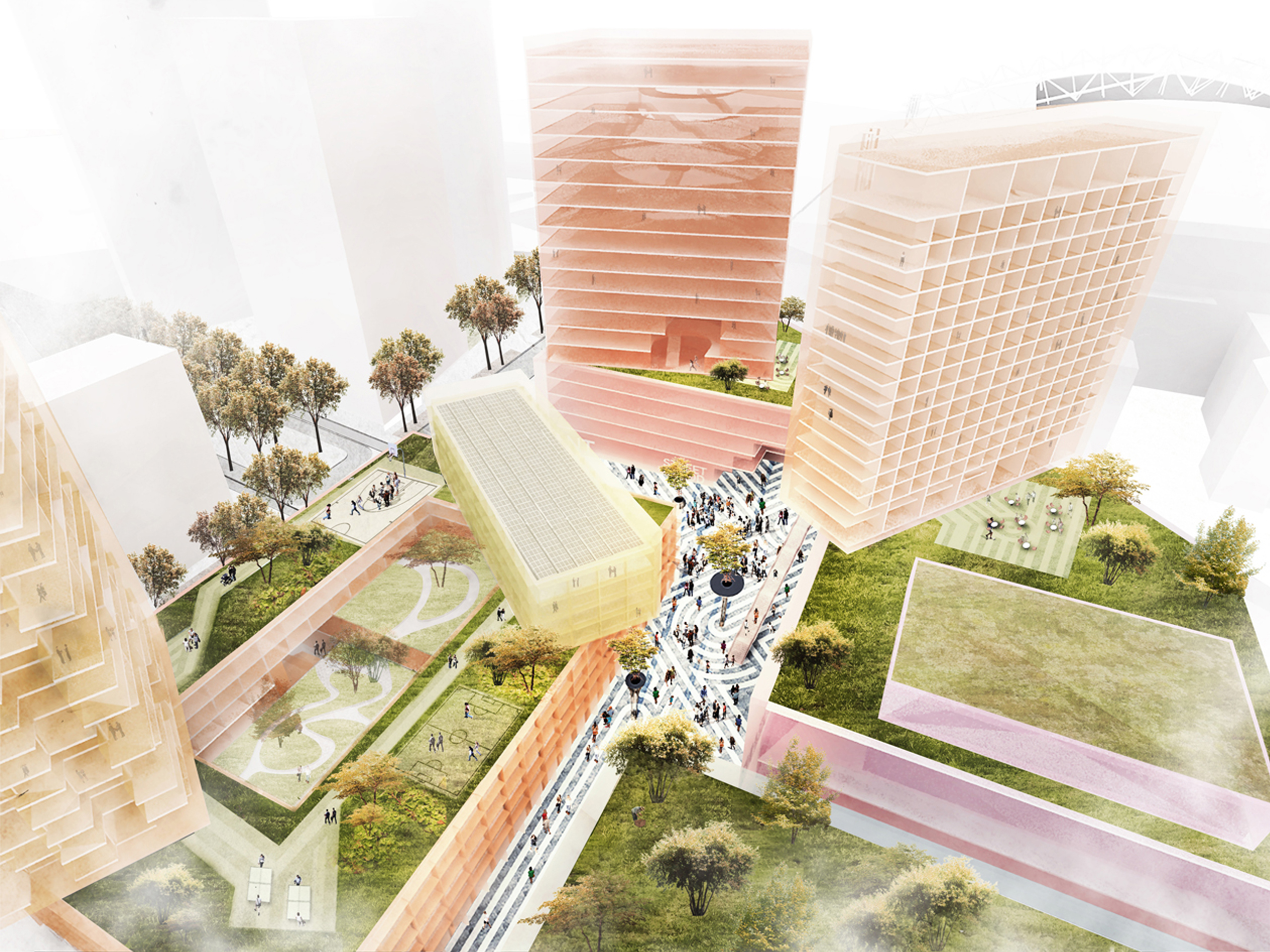 Urban Interactive District
MVRDV's design for the new Urban Interactive District situated next to the Johan Cruijff ArenA in Amsterdam provides Arenapoort with a dynamic new urban area where living, working, shopping, and leisure are combined.
Location

City

Amsterdam

Year

2017

Surface

138500 m²

Client

OMC (AM, Ballast Nedam and ING)

Status

In progress

Programmes
The area of 2.5 hectares opposite The Johan Cruijff ArenA, a mere 15 minutes by train from the historic centre of Amsterdam, will transform into a dense urban area, thanks to MVRDV's proposal to optimize a mix of different functions. The proposal consists of four building clusters with approximately 410 social rental houses reserved for students, 540 rental houses and an estimate of 30.000 m2 for offices, a theatre, a hotel, restaurants and underground parking facilities.
Urban Interactive District will exist as a lively and vibrant hub where visitors and residents alike are engaged irrespective of the time of day. The site, an underutilized plot with great potential, will be urbanized. The introduction of a square will connect the proposal to existing public areas and embed the project within its surroundings. A focus on accessibility, connectivity and a sensitivity to scale ensure that the proposal reads as part of the existing neighbourhood.
According to Winy Maas, co-founder of MVRDV, 'A series of new building blocks will arise that make nice, lively and intimate public spaces and streets. The Zuidoost area is seriously in need of such a district.' With construction expected to commence in 2020 the Urban Interactive District will do just so with a proposal that reinvigorates Arenapoort whilst embracing its unique character.
© all rights reserved