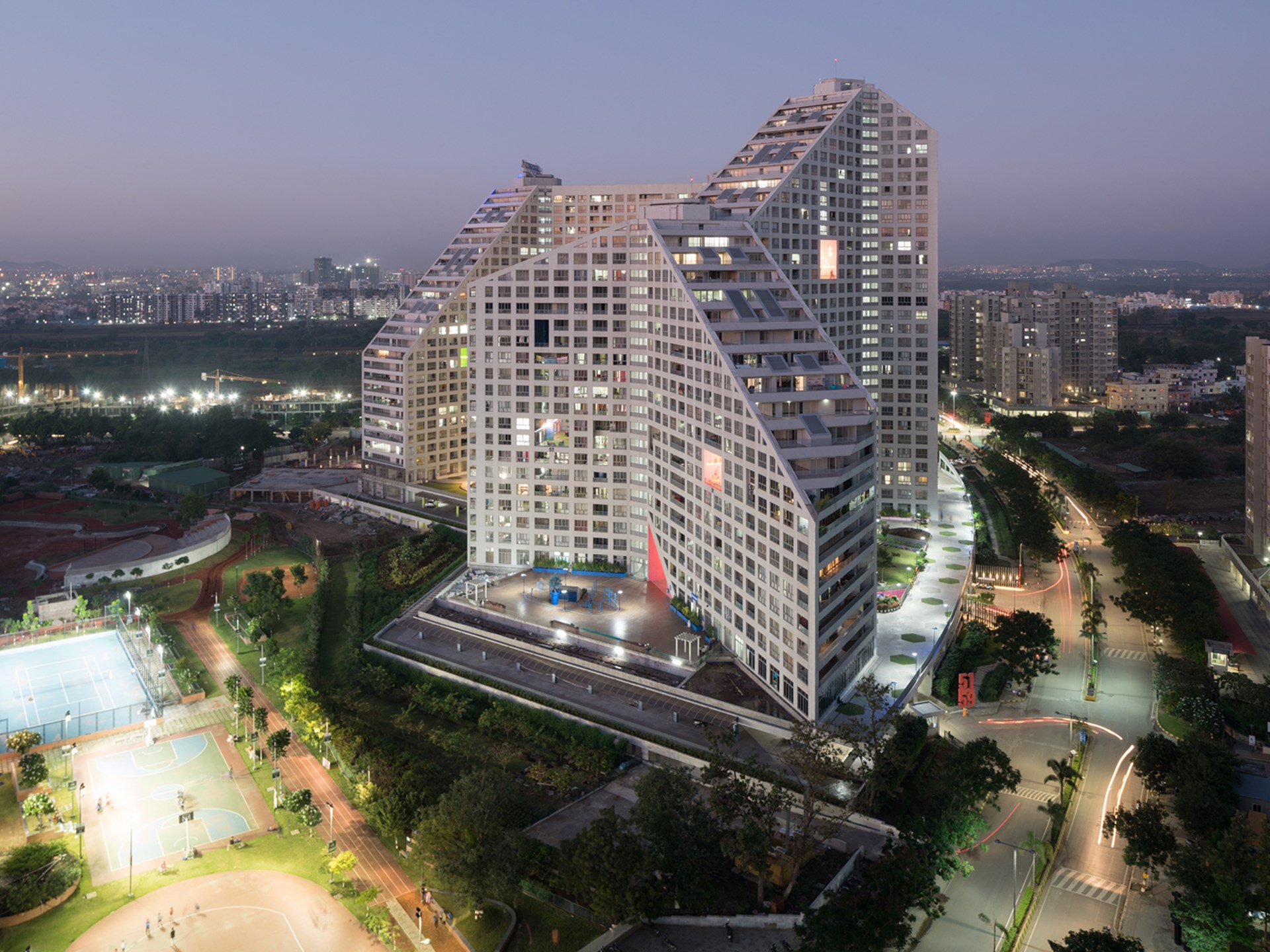 Future Towers
Rather than choose a familiar building type for this mixed-use housing project, MVRDV imagines a structure resembling a landscape formation, with peaks and valleys, canyons and bays, and grottos and caves. Its irregular geometry defines three distinct blocks and pedestrian links through the building with the adjacent park. A variety of indoor and outdoor amenities and unusual spatial qualities encourage a rich social life to develop, creating a community.
Country

City

Pune

Year

2018

Surface

140000 m²

Client

CCL Amanora Park Town

Status

Realized

Programs

Themes
The slabs form a hexagonal grid, which allows for wide views from the apartments and leaves large open public courtyards at ground level. The 'peaks' allow for optimized daylight conditions and the resulting inclined roofs allow for a number of exterior terraces, both private and communal. Recessed balconies on the main facades of the residential slabs themselves hint at the diversity of the homes behind, with a mixture of normal size, double-height, double-width and even some L-shaped balconies. The strong graphical appearance created by the balconies is accentuated by large, brightly coloured openings known as "scoops" that puncture the building's façade to connect with the central corridor, providing public meeting spaces and cross ventilation in all communal spaces in the process. These spaces—which originated in the need to provide refuge spaces to meet the fire code requirements for long corridors—help to give a sense of "neighbourhood identity" to different parts of the building, with each scoop designated for a different activity (such as yoga or mini golf) or for a different type of resident (such as teens or toddlers).



© all rights reserved