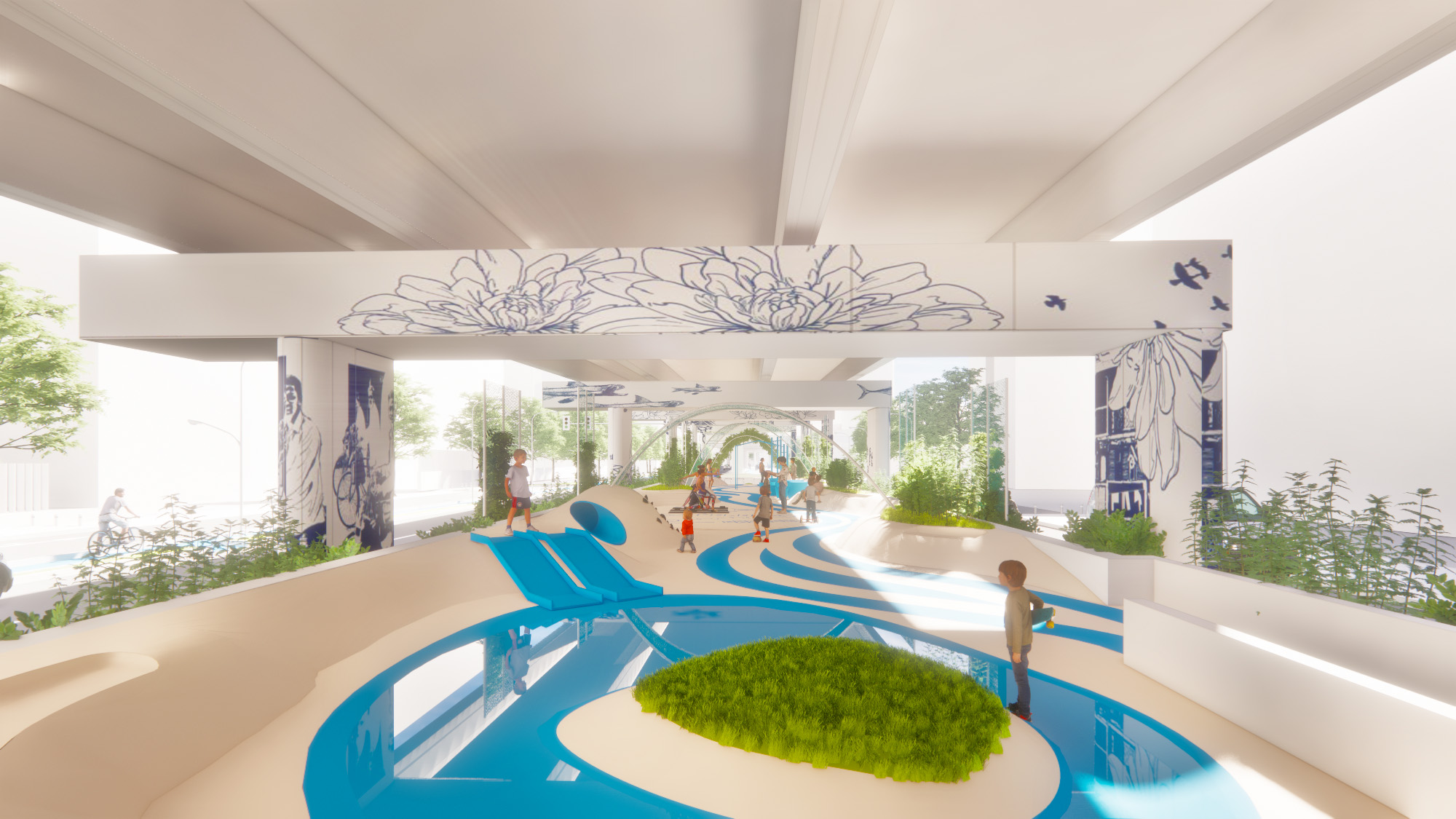 Mumbai Green Mile
The Mumbai Green Mile revitalizes Mumbai's Senapati Bapat Marg flyover, transforming the neglected spaces below this overbearing concrete infrastructure into a space for public activities that appeal to the entire local community. Space, programming, mobility, planting, and visual identity work together in an approach focused on sustainable urban development, asserting a new benchmark for underused public spaces in the intense Indian metropolis.
Location

City

Mumbai

Year

2021

Client

Nucleus Office Park

Status

On site

Programmes

Themes
The Mumbai Green Mile design responds to the existing flyover's limited accessibility, unused spaces, lack of greenery and physical amenities, as well as significant ambient noise pollution. The client initially proposed to repaint the existing structure with blue graphics made by local street artists to assert a strong visual identity for the revitalisation. Expanding upon the design by local architecture office StudioPOD, MVRDV extended this visual identity to all elements of the space, with sinuous blue stripes indicating the new pedestrian route and creating a concept for the Mumbai Green Mile that offers a delightful and holistic urban spatial experience.
A hilly landscape of stonecrete and recycled rubber paving transforms the 2-dimensional visual features into a 3D spatial experience, accommodating a whole range of different programs and providing a dynamic physical attraction that articulates and defines the intervention's bold character and qualities. Visual accent colours in materials and graphics make all aspects of the intervention recognizable as a whole. The space is divided into a series of public "rooms" with diverse functions: lounge, gym, shaded seating area, performance space, and reading room.
Planting extends throughout the 800m public space. Greenery in the design, featured in retaining walls, porous materials, planters buffering mobility paths, and greenery suspended from the flyover, promotes biodiversity and healthy habitat for diverse species, while cooling the surrounding spaces and dampening noise pollution.
The design enhances connections for pedestrians and cyclists to make the area more comfortable and accessible. Paving, bicycle paths, and bright blue, large-scale zebra crossings promote access and safety. It improves accessibility with the incorporation of an uninterrupted mobility network and mobility hub to stimulate cycling. The area's lighting concept works alongside programmatic elements and urban furniture features to make a recognizable place, and ensure safety around the clock.
The project exemplifies a circular economy approach. The design increases the social utility and value of the flyover itself; in addition to transporting cars, it acquires a new purpose as a sheltered, occupiable public space. It thus contributes greatly to the social sustainability and resilience of the area, providing needed play areas for children, informal study spaces, and social amenities in which communities can strengthen their bonds. Engineering features store and filter monsoon water to irrigate the Green Mile's extensive network of plants.
Adding to the current 800m project, a future extension will expand the public space revitalization to 3 km of the flyover's 11.22 km total stretch, which extends from Mumbai's Mahalaxmi racecourse to the Dharavi Mangrove Region.
© all rights reserved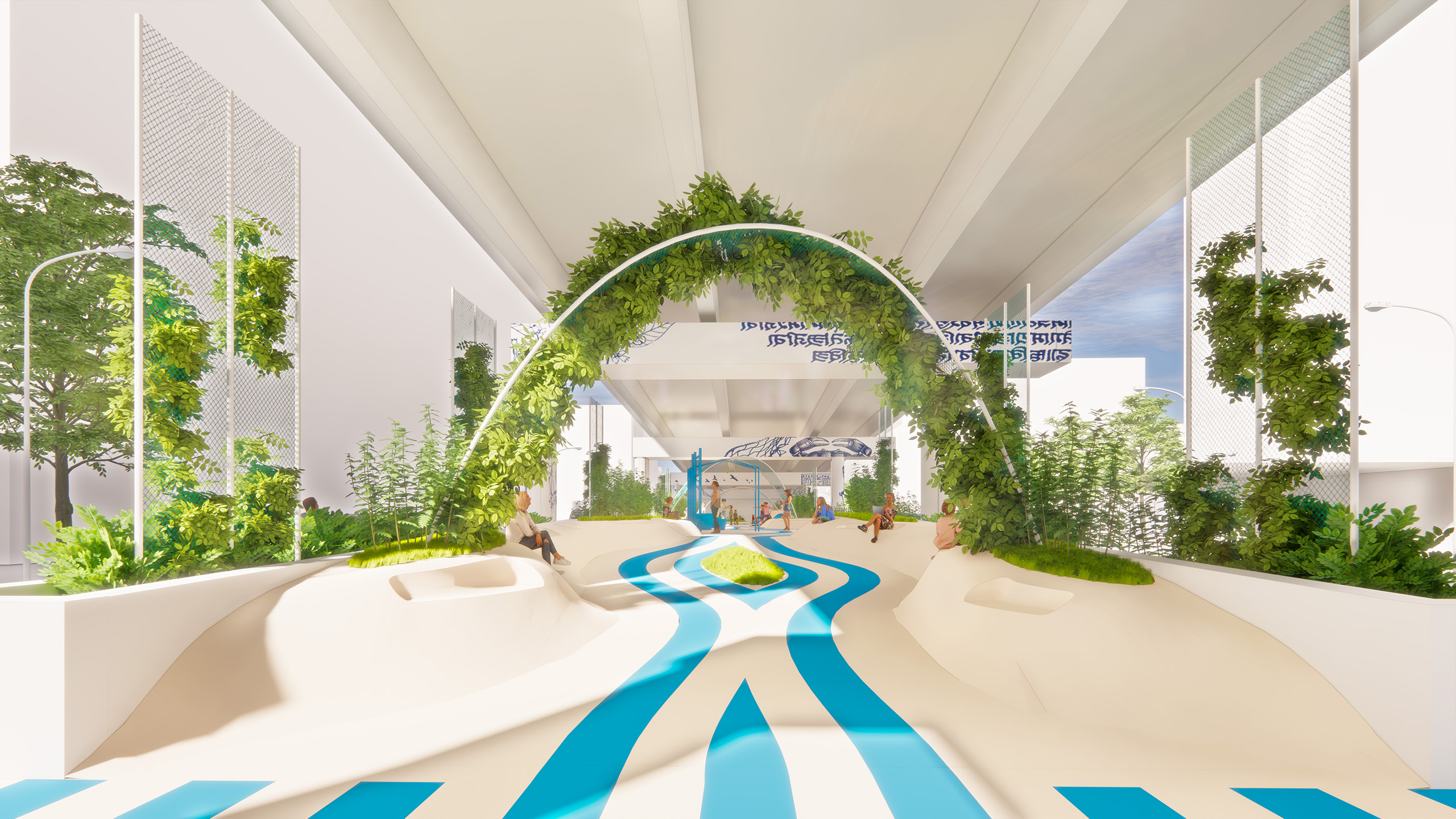 Architect
Founding Partner in Charge
Partner
Design Team
Strategy and Development
Copyright
Partners